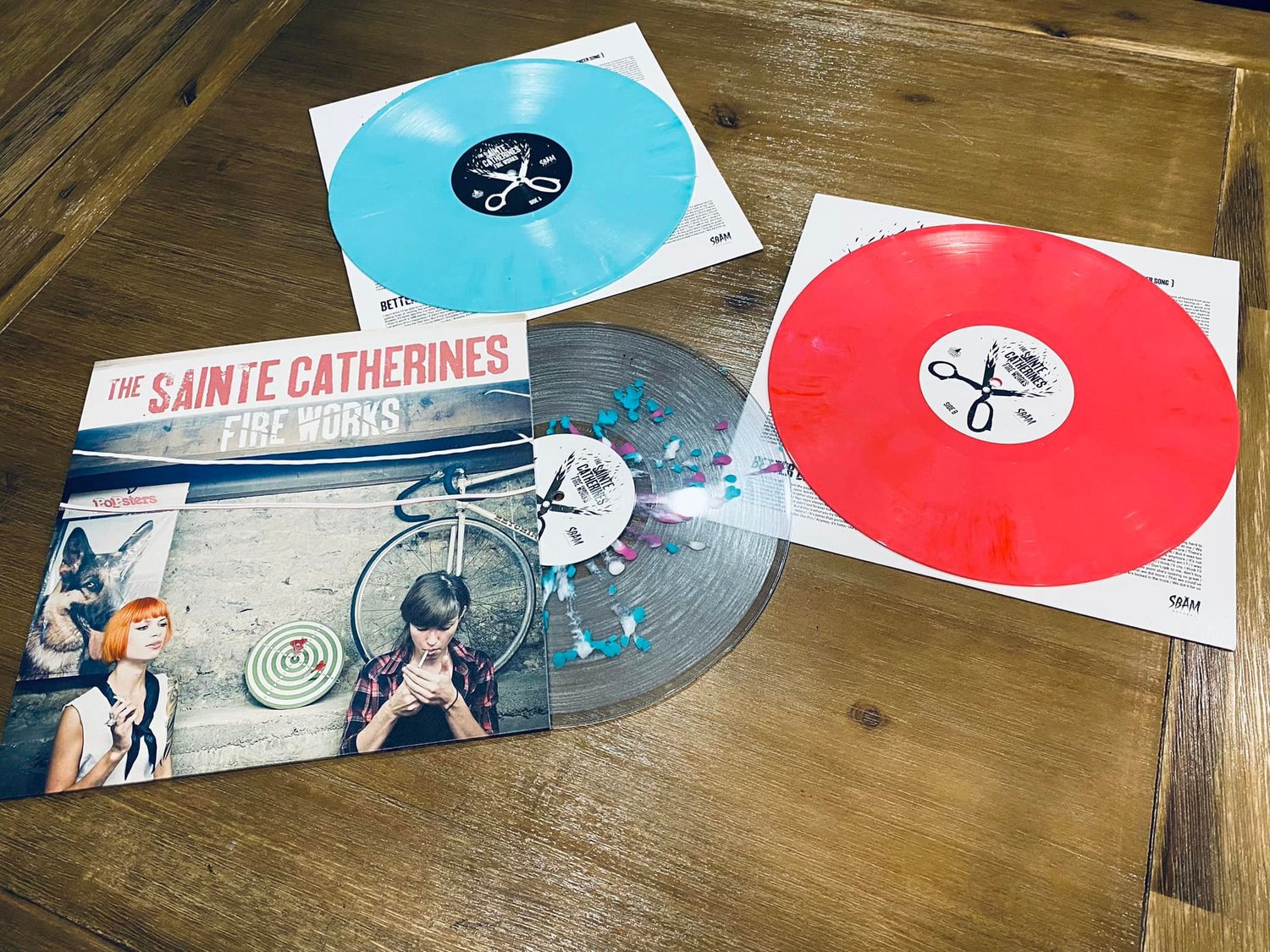 The Sainte Catherines " FIRE WORKS" LP repress
Repress de Fire Works, notre dernier album, paru originalement en 2010 sur Anchorless Records / Stomp / Big Ugly Fish / Guerilla Asso.
Ressorti en 2022 sur Sbam en Europe et Thousand Islands au Canada.
J'aime mieux chanter ces chansons là que celles de Dancing. La plupart.
Ça me touche plus, mais je pense que le monde trippent plus sur les tounes de Dancing. En raison du lien avec Lagwégon.
From Punknews.org in 2010:
I have to admit, I really couldn't figure this one out at first.
Four years after releasing their Fat Wreck album Dancing for Decadence, the Sainte Catherines returned with a slightly different lineup, and a very different sound compared to the previous record. It's a strange album to get around to, but I really do like it now.
Musically, the band has slowed the pace a bit. That's not necessarily a bad thing, even though at first many songs seem to sound alike and some don't really stand out.
After a few spins, however, I got to realize that the intent of the band band seems to have shifted along with the sonic changes: This is a much more personal album, one that is driven by its lyrics rather than the (quite satisfying) kicks in the face of gravelly punk presented by Dancing for Decadence.
The songs deal with a certain disillusion the band seems to have faced since the previous record. A disillusion towards their own band, the life they wanted out of it...and from what it seems like, the music business as a whole.
They have found a satisfaction in things they had probably not even thought of by the time 2006 came along: family, kids, marriage, and life at home. The attitude now is ''We don't need to make it. We tried. This is better.'. At times you wonder if there is a sense of denial in the lyrics, an overcompensation in them for things that did not work out as planned. It takes a lot for a band to write a record about (essentially) not wanting a life that contradicts–at times–the very idea of what they do.
The simplistic but effective approach that frontman Hugo Mudie takes on the song "No Friends", for instance, shows a vulnerability that was always present in his lyrics, but well-hidden behind the growl with which he used to sing. That growl is now completely gone, and he presents his current state of mind to us no holds barred.